At 7.50 a.m:
Constantine (0*):  3 to 5 feet.
A much brighter sky is there to greet us this morning, how long that will last though, well we'll have to wait and see! But it's good news for the Padstow Christmas Festival which is kicking off fully today! Always a belter of a weekend, especially if you enjoy a little fine food and a wee drink!
And this year promises to to be even bigger and better!
Meanwhile, back at the beach, the wind is still blustering in from the west sou' west, scurrying across the headland and swirling into the bay still making a horrible mess of the three to four to five feet of broken and tumbling surf. It's a blown out mess of junked out surf once again, let's have a squint over at Harlyn, that should be a good bit better!…..
Don't forget that we are selling a range of ….Lost and Al Merrick surfboards with £100 OFF!  Plus our continuing summer clearance sale and, of course those fantastic gift combos that Sophie has been putting together (like the fabulous 'Origin Coffee + 'I check the surf' enamel mug' combo).  So if you are around this way this weekend (and why wouldn't you be with the Padstow Christmas Festival in full flow!) then it should be worth your while to stick your head in the door and say hello!
And, as an extra bonus for this weekend, the original surf forecaster, SJ has thrown us his forecast for this weekend's expected big surf!

Harlyn (3*):  2 to 3 feet.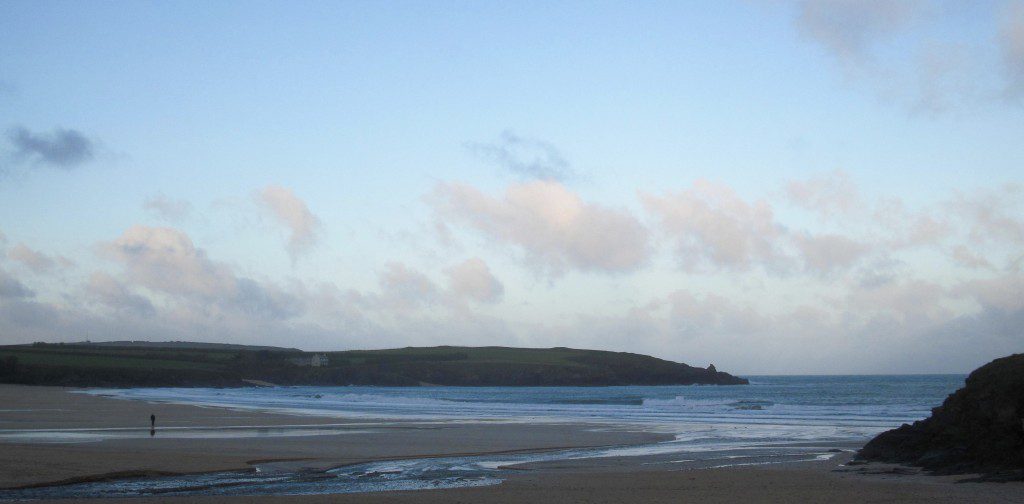 The wind is a little too westerly right now and the tide is just a little too low. But both of those should change through the morning with the forecasts showing the wind to back more south westerly through the morning.
So within an hour or two we should be enjoying a couple to three feet of offshore and fairly clean and reeling, blustery and quite wintery surf. Saying that though, the water is still (relatively) quite warm, it's that wind that makes things feel chilly!
Today's Tide Times:
Low Tide:  18:06  (2.7m)              High Tide:  11:26  (5.8m)

Surf Forecast for Saturday 5th December 2015
The surf is looking big today, well, really big actually! Big and windy though.
Howling south westerly gales are likely to be pushing fifteen feet or so of maxed out storm surf our way. Luckily the tides are neap and so there shouldn't be too much to worry about along the shoreline.
And so it's a search for those super sheltered spots once again! Those storm driven swells should get into even the most remote spots, the whispered about ones that only break once a year if you're lucky type of breaks, they're the places to head for today!
But take it easy even there, this swell should have some oomph to it!
SJ's bonus weekend surf forecast is below!
Surf Conditions for the Weekend
A jet stream powered conveyor belt of winter storms continues to blast the north cornish coastline this week, a little extra oomph being added for the weekend, again!
Those winds did back those few degrees more to the south through midweek, at least allowing Harlyn to provide some more rideable waves as the week winds down.
So Friday will be showing some clean and sharp, hollow waves grinding into Harlyn and similarly sheltered spots, brightening a lot while the surf reduces just a little. But this is definitely going to be the 'calm before the storm' as another wintery blowthrough blasts in on Saturday.
We will probably all be holding our breaths again in the hope that those tucked away little sheltered but fickle surf breaks will kick in during the weekend! There should be a few breaks lighting up for the first or second time this winter and, if you're prepared to drive, a few more too.
But if you do find somewhere sheltered enough and enticing enough to slip in for a barrel or two this weekend then take it easy, there's a lot of energy in these stormy winter swells! You know what Eddie used to say; 'if in doubt, don't go out!'.
Have a great week, wherever you are and whatever you're doing!
SJ's Weekend Forecast
'The jet stream is turbo charging some lows in the Atlantic that will smash their way into Britain this week.'
Sunrise and sunset – 08:00 and 16:20
Twilight starts and ends – 07:25 and 17:00
Midday – 12:10
Length of day – 08:20
Offshore Sea Temp approx – 13.5 C / 56.5 F
Friday 4th:
'The calm before the storm.'
Swell direction approx – (i) Average W-WSW (ii) Strong WNW (iii) Weak SSW
Wind direction approx – Medium-Strong W-SW going Strong SW
Weather outlook – Bright and sunny start, clouding over in the afternoon
North Coast approx – 5-6ft (shoulder to headhigh)
South Coast approx – Blown Out 1-3ft (knee to waisthigh)
Tides – 11:19 High (Neap tide)
Weekend Summary:
'Stormy weekend! Take care out there.'
Saturday 5th:
'Sheletered spots for those that dare in these dangerous conditions.'
Swell direction approx – (i) Very Strong W-WSW
Wind direction approx – Strong to Gale Force going Gale Force SSW-SW
Weather outlook – Cloudy with the chance of a light rain shower
North Coast approx – MAXED OUT 18ft (triple overhead)
South Coast approx – MAXED OUT 6-12ft (overhead to double overhead)
Tides – 12:33 High (Neap tide)
Sunday 6th:
'Sheletered spots for those that dare in these dangerous conditions.'
Swell direction approx – (i) Very Strong W-WSW
Wind direction approx – Changable (Medium to Strong W-SW going Medium S
Weather outlook – Overcast with rain showers
North Coast approx – MAXED OUT 18ft+ (triple overhead+) going 12-15ft (double overhead+)
South Coast approx – MAXED OUT 6-12ft (overhead to double overhead) going 6-8ft (overhead)
Tides – 07:38 Low, 13:36 High