At 7.45 a.m:
Constantine (0*):  10 to 12 feet
It's another wild and woolly one out there this morning as the jet stream blasts another in a string of storms our way. This one, Desmond(!!??), being the fourth named storm in probably that many weeks!
Back in the '70s there was a cyclone down in Australia that fired up the surf creating all-time conditions at Noosa and that one was called Des. I guess that there's enough antipodean difference there but let's hope that this storm creates the same conditions over here this time!
That's not happening here today though!
There are mountainous seas rolling in, broken and choppy lines feeding all the way out to the Quies but the wind is gale to storm force, onshore and ferocious.
You don't want to be going anywhere near it today, not here anyway!
Let's try Harlyn…..
Don't forget that we are selling a range of ….Lost and Al Merrick surfboards with £100 OFF!  Plus our continuing summer clearance sale and, of course those fantastic gift combos that Sophie has been putting together (like the fabulous 'Origin Coffee + 'I check the surf' enamel mug' combo). So if you are around this way this weekend (and why wouldn't you be with the Padstow Christmas Festival in full flow!) then it should be worth your while to stick your head in the door and say hello!
And, as an extra bonus for this weekend, the original surf forecaster, SJ has thrown us his forecast for this weekend's expected big surf!

Harlyn (4*):  4 to 6 feet and building.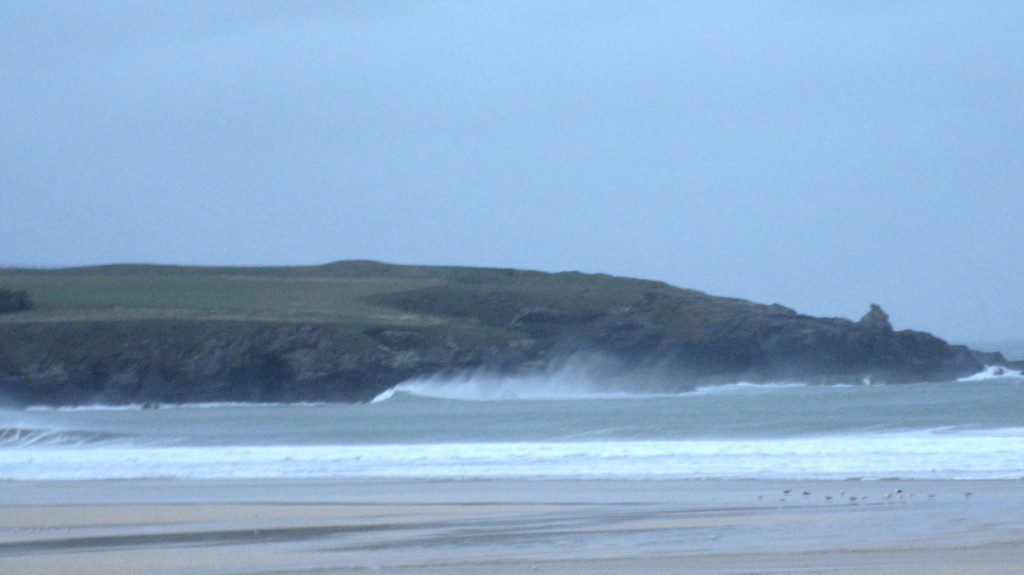 Harlyn is firing this morning, that wind storming offshore here, hollowing out some thick and wintery swells.
There's four to six feet of grinding barrels smashing onto the sand, a lot of them just closing-out from one headland to the other but the odd one peeling and screaming all the way onto dry sand.
Take it easy out there today, it's a little bit bigger than it looks and is really powerful and you just know that you have to take a whole bunch of shutdown sandwhompers before you find that blissful one!
It should get bigger with the tide too!
Today's Tide Times:
Low Tide:  19:19  (2.6m)              High Tide:  12:39  (5.8m)

Surf Forecast for Sunday 6th December 2015
Those thumping swells are set to continue to batter their way into our bays and coves and wallop our beaches and headlands but the wind might do weird things today.
It could be worth just keeping a wary eye on that wind today, it is going to behowling onshore to start but could suddenly calm quite quickly and could (did you notice that 'could'?) even go offshore early in the afternoon!
And that could result in epic conditions!
SJ's bonus weekend surf forecast is below!
Surf Conditions for the Weekend
A jet stream powered conveyor belt of winter storms continues to blast the north cornish coastline this week, a little extra oomph being added for the weekend, again!
Those winds did back those few degrees more to the south through midweek, at least allowing Harlyn to provide some more rideable waves as the week winds down.
So Friday will be showing some clean and sharp, hollow waves grinding into Harlyn and similarly sheltered spots, brightening a lot while the surf reduces just a little. But this is definitely going to be the 'calm before the storm' as another wintery blowthrough blasts in on Saturday.
We will probably all be holding our breaths again in the hope that those tucked away little sheltered but fickle surf breaks will kick in during the weekend! There should be a few breaks lighting up for the first or second time this winter and, if you're prepared to drive, a few more too.
But if you do find somewhere sheltered enough and enticing enough to slip in for a barrel or two this weekend then take it easy, there's a lot of energy in these stormy winter swells! You know what Eddie used to say; 'if in doubt, don't go out!'.
Have a great week, wherever you are and whatever you're doing!
SJ'S WEEKEND FORECAST
Saturday 5th:
'Sheletered spots for those that dare in these dangerous conditions.'
Swell direction approx – (i) Very Strong W-WSW
Wind direction approx – Strong to Gale Force going Gale Force SSW-SW
Weather outlook – Cloudy with the chance of a light rain shower
North Coast approx – MAXED OUT 18ft (triple overhead)
South Coast approx – MAXED OUT 6-12ft (overhead to double overhead)
Tides – 12:33 High (Neap tide)
Sunday 6th:
'Sheletered spots for those that dare in these dangerous conditions.'
Swell direction approx – (i) Very Strong W-WSW
Wind direction approx – Changable (Medium to Strong W-SW going Medium S
Weather outlook – Overcast with rain showers
North Coast approx – MAXED OUT 18ft+ (triple overhead+) going 12-15ft (double overhead+)
South Coast approx – MAXED OUT 6-12ft (overhead to double overhead) going 6-8ft (overhead)
Tides – 07:38 Low, 13:36 High
Early Next Week (Courtesy of meteorologist Jeremy Plester):
'Another big low will swing up past the west coast of Ireland and towards the Hebrides on Monday, whilst high pressure moves from Biscay across to the continent through to midweek. This will keep it draughty with winds from the SW for the beginning of the week, with plenty of lumpy swell for the main beaches and enough of this getting round the corner to keep those sheltered spots purring away. The big lows in the Atlantic will be replaced by a more westerly flow midweek keeping the swell going but making more difficult to find clean waves. I can't find anything further ahead to get too excited about – west or south-westerlies dominate the long range guidance from both the European models and the Americas.'